The Thippur Family Gold Medal for the Interdisciplinary Ph.D. programme in Brain and Artificial Intelligence (BAI) has been instituted by alumnus Prof. Thippur Sreenivas, Prof. Hareesh V. Tippur, and Dr. Shekhar Kirani through an endowment to IISc.
About " Thippur Family ":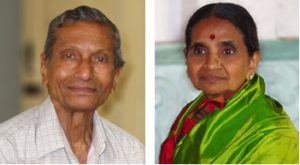 Shri. Thippur Venkatanarasaiah and Smt. Premaleela
Our late father, Thippur Venkatanarasaiah, hailed from a small town in Karnataka. His father, Thippur Venkataramanaiah, was a resident of Hosur in Gowribidnur Taluk, Kolar district. We are told that the Thippur family has been a relatively small family because of single progeny for several consecutive generations; hence, our father was rather proud that he had two sons (Sreenivas and Hareesh) and a daughter (Jyothi).
Our late father got his early education in Sanskrit in Hosur before venturing out of his village and eventually earn an engineering degree in Bangalore. As a rank student in SSLC, he greatly valued education. By leaving the comforts of his parents' home at an early age, he brought us the fruits of higher education. In his retirement, he used to frequently reminisce his travails of living away from his parents, in nearby towns, in free hostels under the auspices of different charities, to complete his pre-university schooling. To earn the 5-year civil engineering degree in Bangalore at the present day UVCE, he had to tell his parents that it would be only a 3-years degree. The difficulties of living and studying in unfamiliar places with uncertain prospects during the World War years made him an adventurer and a high achiever in our eyes. Despite the toils of his younger age, our late father was a dedicated family man and he deeply cared for us and his elderly parents. Honesty and hard work were hallmarks of his professional career as an engineer of Karnataka state government. He, with the support of our beloved and caring mother Premaleela, had the singular goal of raising his three children to be well educated, to be productive members of the society; he set tough goals while she showered us with endless affection.
Our late father's singular goal got us all collegiate education in Bangalore with engineering degrees in different disciplines. He was extremely proud of us and his son-in-law (Shekhar Kirani) for earning master's degrees from IISc. Not surprisingly, the importance of higher education and scholarship has always echoed in our household, through both words and deeds. Therefore, we feel that generations of high-achieving students should get elevated, transformed, and recognized in the scholarly atmosphere of our alma mater, the Indian Institute of Science, Bangalore.
(from Sreenivas, Hareesh, Jyothi & Shekhar)