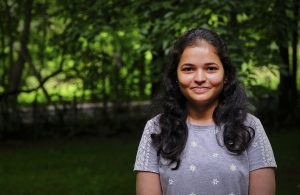 M.Tech student @ CDS Dept | Recipient of Wells Fargo Women Fellowship
It is Dr BR Ambedkar that Prajakta Sanjay Borse borrows from, as she tries to explain why more women should be working in science and technology. "I measure the progress of a community by the degree of progress which women have achieved," she quotes him. "It is still a dream to have an equal number of women in the STEM field. The percentage currently is meagre."
The disparity that the second-year M.Tech student, of the Department of Computational and Data Sciences (CDS), talks about is real. A UN report this year found that only 33 percent of researchers worldwide were women. When it comes to India, this number drops to 14 percent. Parity feels a long way away.
It is against this backdrop that initiatives like the Wells Fargo Women M.Tech Fellowships assume significance. The fellowship, instituted by leading financial services institution, Wells Fargo , provides financial assistance to two M.Tech students of the CDS department. Prajakta was one of the two inaugural beneficiaries of the fellowship. And her story is an example of how such initiatives can make a difference.
Prajakta completed her graduation in a local college in her native Chiplun in Maharashtra, before opting to pursue a Master's in mathematics from Pune University. It was here that she became interested in data science. "While pursuing my masters in Mathematics at Savitribai Phule Pune University, I became interested in data science," she says. "In my second year, I learnt more about it by enrolling in a machine learning course, which piqued my curiosity. I was sceptical at first, but my parents were encouraging and urged me to pursue my passion. I enrolled in the MTech in Computational and Data Science programme at IISc Bangalore to gain the necessary technical skills."
The path to a second Master's was not easy. Prajakta worked a couple of jobs and used her savings to pay her fees for the programme. Even then, finances were always going to be on the back of her mind. But she says that being selected for the Wells Fargo Fellowships has changed all that. "I became financially independent as a result of the Fellowship, and I no longer have to worry about my expenses," she says. "It frees you from any other stress and helps you focus on studies. I was also able to get a laptop to aid my studies with the fellowship grant."
Now Prajakta dreams of contributing to the advancement of artificial intelligence and she is confident more women will join her on her adventure. "There are currently five girls out of thirty in my class," she says. "But with a helping hand from more such initiatives, this will soon change. I am grateful to Wells Fargo for offering such fellowships to women in the STEM field who want to further pursue their studies."
Wells Fargo Women M.Tech. Fellowships have been instituted at IISc in 2021 and aimed at encouraging highly talented women students to pursue careers in the deep technology sector like data sciences in order to address the gender inequality in science and technology.
Learn more about the Wells Fargo Fellowships here: https://cds.iisc.ac.in/resources/fellowships/wells-fargo-women-fellowships/