Enabling Student Travel to Conferences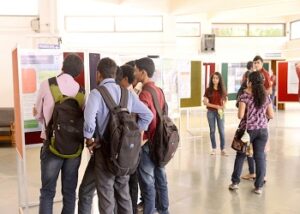 In 2016, an IISc alumnus made a commitment to support the travel of IISc students to international conferences for 10 years through the "D Nagarajachar Fund". In the academic year 2016-17, two students benefited from the fund and presented their work at international conferences in Berlin and Washington, DC.
Attending a conference outside India is quite expensive and almost impossible to attend without financial support. I would specially like to acknowledge the donor of the fund, an alumnus of our institute, whose initiative posed an encouraging and helpful gesture and provided immense support for attending an international conference. Interactions with esteemed scientists in the field and helpful discussions on my current as well as proposed research work, was a personal highlight of the conference. In addition, exposure to several new techniques and instruments such as SEM/TEM, Seahorse analyzer, live cell imaging, etc. employed for various purposes apart from the ones we commonly use them for, was immensely beneficial.The academic insights gained in the conference and the feedback obtained for the observations of my doctoral studies, will be of immense help in my current graduate studies, and will definitely aid in shaping my future research career as an independent scientist.
I was awarded with D. Nagarajachar Fund to attend IEEE Global Communications Conference 2016 (GLOBECOM-2016) in Washington DC. The conference was attended by 2,288 global scientists, researchers and industry professionals. IEEE GLOBECOM is one of the most significant scientific events of the international networking and communications community. In the conference, I presented my research paper titled "Optimal Scalar Linear Index Codes for Some symmetric Neighboring Side Information Problems". The conference participation was fruitful, insightful and inspiring, and helped me gain new ideas and knowledge to take my research work forward. Attending the conference helped me gain valuable insights into Network Coding (my area of research) from some of the leading professionals in the field. Interacting with such eminent scientists was immensely motivating personally and professionally. It is a great privilege for me to get the D. Nagarajachar fund. I would like to express my gratitude to the sponsor and the selection committee for awarding me with this fund.