Durgam and Subha Chakrapani Family Trust Medal for the PhD programme at the Department of Robert Bosch Centre for the Cyber-Physical System has been instituted by alumnus Dr Durgam Chakrapani through an endowment to IISc.
About Dr Durgam and Subha Chakrapani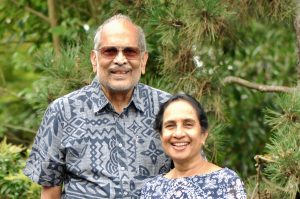 Durgam Chakrapani pursued his Master's in foundry Engineering at the Indian Institute of Sciences (1962-64), after graduating with a B.E.(Hons) in Mechanical Engineering from Madras University viz P.S.G College of Technology, Coimbatore. Following graduation at IISc., he was a founding partner and managing director of a nonferrous foundry and builders hardware manufacturer in Salem, his native town ('64-'69). He was selected to participate in postgraduate training in ductile iron, malleable iron, and steel casting foundries in Leipzig, Magdeburg, and Dresden (in former East Germany) '64-'66.
He joined the University of Illinois at Champaign-Urbana campus as a research assistant to pursue a Ph.D. in Metallurgy and Material Science. ('69-'74). After graduation, he served as the manager of the corrosion control laboratory at the University of Illinois and continued post-doctoral research. ('75-'76).
In 1976, he joined the consulting engineering and applied research company cofounded in mid-1940s in Portland, Oregon by a former University of Illinois graduate as metallurgical/corrosion scientist and progressed to become Director, Vice President, and for the final thirty years as its President prior to his retirement in 2008. He is a registered Professional Engineer in the states of Oregon, Washington, and California. He is a member of numerous professional bodies in the fields of metallurgy, material sciences, corrosion, electrochemistry, consulting engineering, and management. He has authored/co-authored over seventy-five publications in peer-reviewed journals, and presented papers at several international conferences in Europe, UK, Japan, India, and USA. He is the recipient of the Jacquet-Lucas Gold Medal in 2001, sponsored by ASM.
He is a founding member and past president of Kalakendra, a performing arts organization in Portland, Oregon which is in its fourth decade offering outstanding artists to a growing population of Indian Americans and interested populace in Oregon. He served as a panel member at the National Endowment for the Arts, Washington DC during the GW Bush administration.
He is a founding Charter member and served on the board of TIE-Oregon, an incubator/investor for start-up companies which is in its second decade of successful presence in Oregon. He has invested in over a dozen start-up companies with several successful exits.
He is enjoying his retirement years golfing, investing in real estate/stock market, traveling internationally/domestically, and spending time with grandchildren.
Subha Chakrapani, the life partner of Durgam celebrated their 55th Anniversary in May 2022. She is a founding partner and MD of a jewellery business specializing in high-carat gold and diamond jewellery hand-crafted from various regions of India, serving an ever-expanding Asian population. Thanks to Durgam's Dad, a well-known jeweller in Salem, she inherited the skillset.
Over the years Subha and Durgam have been actively involved in organizing communal activities, music groups, housing/hosting visiting artists, and philanthropy.