Dr. Bhailalbhai P Suthar and Narmadaben B Suthar Memorial Gold Medal for the MTech (EPD) Program at the Department of Electronic Systems Engineering at IISc has been instituted by alumnus Vinod B Suthar through an endowment to the Institute.
This Gold Medal has been instituted by Vinod B Suthar in memory of his parents Dr Bhailalbhai P Suthar and Narmadaben B Suthar.
About Dr. Bhailalbhai P Suthar and Narmadaben B Suthar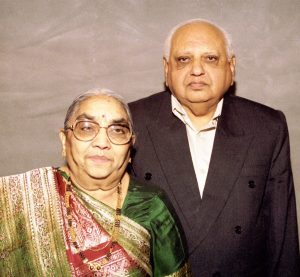 Dr. Bhailalbhai P. Suthar – Motabhai (Big Brother), as his entire family called him lovingly, was born to Maniba & Purushottamdas Suthar in Kadachhala, Gujarat. He was the oldest of seven children. He was united in marriage, in the late 1940s in Tundav, Gujarat, to Narmadaben with whom he lived a rich & fulfilling life. He had a Doctorate in Education and wrote several books, and was a true teacher by nature. He would help each individual recognize their abilities and autonomy, and was always there to guide and support all. A dignified teacher, he had lifetime students from his early days of teaching, who to this day, deeply respect him. Coming from a farming family, he was also a farmer by heart. He loved to follow and discuss politics. He would joyfully recount his life stories. A highly principled person, he responsibly nurtured and raised five successful children with his wife Narmadaben.
Throughout their life, they made countless sacrifices to provide the best for their family, including immigrating to the United States in 1984 where they re-established themselves from scratch in their middle-age.
Bhailalbhai died in 2017 at the age of 86 and his wife Narmadaben died in 2016 at the age of 84. The medal has been instituted by their eldest son.
About Vinod B Suthar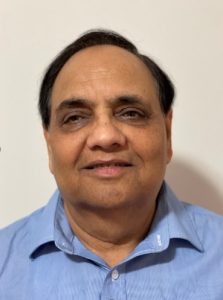 Vinod B Suthar obtained his BSc (Mathematics) degree from Sardar Patel University, Vallabh Vidyanagar, Gujarat. He joined the Department of Electrical Communications Engineering, Indian Institute of Science, Bangalore in 1971 and obtained his bachelor's degree in 1974. In 1980, he obtained a master's degree in computer technology from Indian Institute of Technology Delhi. He served the Systems Group, Department of Electronics, Government of India from 1974 to 1981. He then moved to Elecon Engineering Company, Vallabh Vidyanagar, Gujarat, where he served as Plants Manager. In 1993, he immigrated to the USA where he obtained extensive experience in Control Systems Engineering including Automation of Manufacturing Machines, Servo System Design, and PLC/HMI software development.
Vinod Suthar retired in 2020 and currently spends time investing, travelling internationally/domestically, and with grandchildren. He lives in Shrewsbury, MA and is married to Umaben Suthar, with whom he has a son Vaibhav and a daughter Ripple.