DR. T.R. Bhaskaran Memorial Prize for Excellence in Academic Research
Pratibodh Foundation, through an endowment to IISc, has instituted an annual award with a cash prize of Rs. 1,00,000 for excellence in academic research for the students of the department of Biochemistry in memory of Dr. T. R. Bhaskaran, a distinguished alum of the department. Ms. Latha Mani, the founder of Pratibodh Foundation has instituted this award in remembrance of her father.
Eligibility and Selection
PhD students in the department of Biochemistry, who are preferably in their fifth year, are eligible to apply for this award. The student will send a short research proposal, either in basic or applied sciences, and will spend about six months performing research based on the proposal under the mentorship of their research supervisor. Each year, an external committee of experts will review the students' proposal and the research work conducted and select one outstanding student for this award. As an exception, if the committee decides to select two equally outstanding students for the award in a year, Pratibodh Foundation will award an added special prize of equal value in that year.
Dr. T. R. Bhaskaran Memorial Award will comprise of a citation and cash prize of Rs. 1,00,000.
Starting from 2022, every year, the selected student(s) will receive the coveted award on September 12, the birth anniversary of Dr. Bhaskaran.
About Dr. T. R. Bhaskaran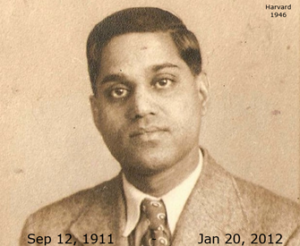 Dr. Bhaskaran obtained his MSc, AIISc, and DSc degrees in Biochemistry in 1936, 1937 and 1940 respectively from IISc. He was also a research assistant in the department of Biochemistry, IISc during 1939-40.
Dr. Bhaskaran was able to go to college and study only because of scholarships he received all through. He also received several awards and prizes during his college days and the significant being – Arni gold medal for Chemistry in 1933 (Dr. Sir C. V. Raman got this prize in 1905 and Astrophysicist Dr. S. Chandrasekhar got the same in 1930), Sir Willian Wedderburn prize for best MSc thesis in 1936 and Curzon Prize for excellence in Research in Biochemistry in 1937. The Rockefeller Foundation awarded Dr. Bhaskaran a fellowship to study in the Harvard University, USA and he received an MS degree in Sanitary Engineering, in 1946.
Dr. Bhaskaran's lifelong contribution to public health in India started immediately after his graduation from IISc in 1940, when he started working as a Research Officer for Rockefeller Foundation Project in Singur, West Bengal. Following that, he had an illustrious teaching and research career at the All India Institute of Hygiene and Public Health, Kolkata in the field of Environmental Hygiene and Sanitation. Dr. Bhaskaran was responsible for the preparation of the draft report for control of water pollution from domestic and industrial wastes which formed the basis for the Indian Water (Prevention and Control of Pollution) Act, 1974.   During his long professional career, he received innumerable prestigious awards for his research contributions, leadership, and guidance in the areas of rural water supplies, ground water pollution, sewage treatment, hygiene aspects of night soil composts, methods for treatment of industrial wastes, and other related areas.  His advice and guidance were sought after and he held eminent positions in various advisory committees of ICMR, CSIR and WHO. As Technical Director in Geo Miller and Company, he was responsible for the installation of over thirty modern treatment plants for sewage and industrial wastes all over India.
About Pratibodh Foundation
Pratibodh Foundation (www.pratibodh.in) is a 'not-for-profit' company registered under Section 8 of the Companies Act 2013. The objective of the Foundation is finding avenues and resources for bright students from the disadvantaged socio-economic, marginalized, and discriminated communities and groups who have shown excellence and a fervent desire to achieve their dream of pursuing college education and higher studies in reputed institutions of learning and research. On a broader front, Pratibodh Foundation aims to promote advocacy for inclusive, non-discriminatory, equal opportunity and access, multi-disciplinary and inter-disciplinary education with excellence and social purpose.
Awardees
2021    –     Debaleena Kar
2022    –     Mani Garg