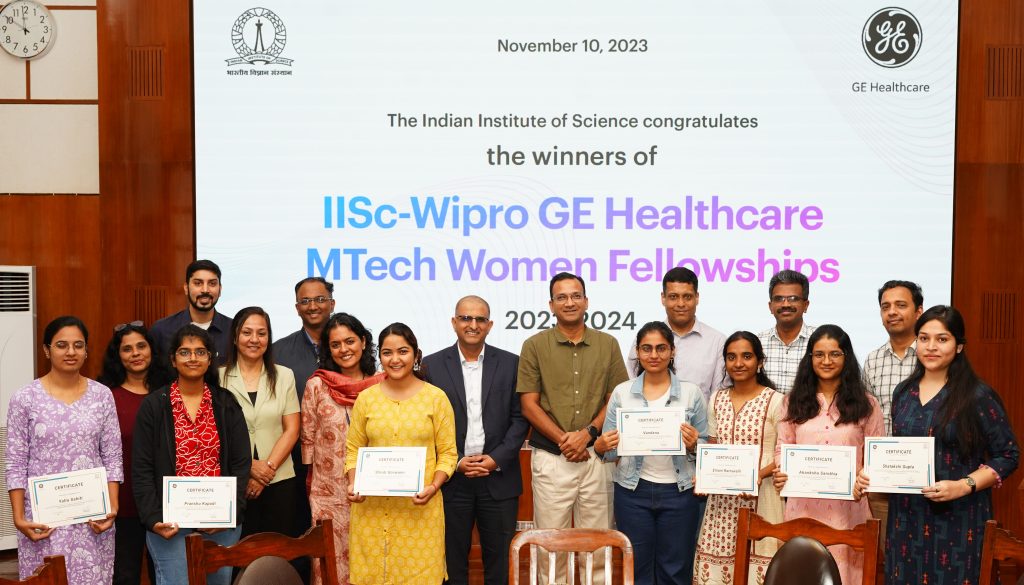 Wipro GE Healthcare has established top-up fellowships for M.Tech women students at the Indian Institute of Science (IISc) as part of their Corporate Social Responsibility initiative.
The IISc-Wipro GE Healthcare M.Tech Women Fellowships aim to encourage women students from underrepresented categories to pursue careers in science and technology. 
2022-23 winners
The leadership team from GE Healthcare, comprising Dr. Shravan Subramanyam, Managing Director, Wipro GE Healthcare; Girish Raghavan, VP – Engineering, GE Healthcare; Uma Parameswaran and Surekha Sailesh, interacted with the students at Indian Institute of Science (IISc) Faculty Hall on October 4, 2022 and awarded formally these fellowships.
Laxmi Choudhary                           Electrical Systems Engineering
Aditi Prasad                                    Signal Processing
Aastha Vijay Balapande                 Electrical Communications Engineering
Soni Kumari                                    Signal Processing
2023-24 winners
Akanksha Sarothia                         Bio-engineering
Vandana                                         Computer Science and Engineering
Shatakshi Gupta                             Artificial Intelligence
Yalla Sahiti                                      Electronic Systems Engineering
Emani Ratnavalli                             Electronic Systems Engineering
Dhanireddy Chandrika                    Microelectronics and VLSI Design
Pranshu Kapadi                              Microelectronics and VLSI Design
Shruti Goswami                              Computer Science and Engineering