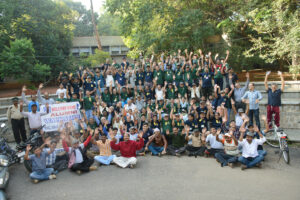 IISc has hosted, nurtured and produced hundreds of eminent scientists and technocrats who have built and headed leading scientific and industrial powerhouses across the country.
In the last century of its existence, the institute has produced more than 20,000 graduates in various science and engineering disciplines.
IISc is truly proud of its illustrious and accomplished alumni who have made exceptional contributions to the advancement of science and technology worldwide.
We invite alumni to give back to IISc in one of 2 ways
I. Through IISc's exclusive alumni website
We have launched a new multi-faceted alumni-networking portal to connect with IISc alumni from around the world and to encourage support for various initiatives at IISc. We encourage you to use this website to explore opportunities to give back to the Institute.
Step 1: Register on IISc's exclusive alumni website at www.alumni.iisc.ac.in/login. This can be done using your email address, Linkedin or Facebook page.
Step 2: Once you have registered, you will receive an activation email and your identify will be verified by administrators.
Step 3: Once you receive a confirmation email after verification, you can log in to the website at www.alumni.iisc.ac.in/login
Step 4: Visit the Fundraising page to view all the projects listed for fundraising.
Step 5: Select a project of your interest to see the description.
Step 6: Click on "Make a Contribution" at the top of the project page. At this stage, make sure you have your Credit Card/Debit Card/Net Banking details in hand to ensure quick processing.
Step 7: Select your currency (Rupees or USD) and enter the amount. You can also choose to contribute anonymously (please select the checkbox).
Step 8: Enter the details in the payment gateway page you are redirected to.
If you selected Rupees, you will be redirected to PayU payment gateway
If you selected USD, you will be redirected to PayPal payment gateway
Step 9: Make the contribution.
Step 10: You will be redirected to the alumni website.
You should receive an automated email acknowledging payment through the website (please check your spam folder as well). In case you do not receive the acknowledgement or face any issues during the transaction, please contact ODAA office at 080-2293 3590/3591 or write to alumniaffairs.odaa@iisc.ac.in. We will try to resolve the issue as soon as possible
II. By Cheque
Contributions can be made via cheque with a covering letter stating the name and details of the project and funding, and your contact details. Cheque can be drawn in the name of "The Registrar, Indian Institute of Science" and sent to:
Chairman,
Office of Development and Alumni Affairs
Indian Institute of Science, Bangalore – 560012
Phone: 080-22933590/3591
Email: alumniaffairs.odaa@iisc.ac.in
All contributions will be acknowledged appropriately and the necessary receipts and documents for tax purposes will be sent to the contributors within the deadlines for tax purposes as required. Periodic reports will also be sent to the contributors as required.
Alumni in the USA
We invite alumni in the USA to contribute to IISc through the IISc Foundation. 
The IISc Foundation has been established in the USA to enhance global awareness of the Indian Institute of Science (IISc).
The IISc Foundation is a platform to support IISc Bangalore's drive towards global excellence in engineering education and research. It is an IRS-approved tax-exempt 501(c)3 non-profit entity established and managed by volunteer IISc alumni to raise endowment funds for IISc Bangalore from alumni, corporations, and foundations in the United States.
For more details, please visit: https://iiscfoundation.org
A small percentage (~5%) of each contribution may be used for administrative/overhead expenses.
Tax information
The Indian Institute of Science, Bangalore has been recognized by the Govt. of India as an Institution of national eminence, a Deemed University, and one of the premier research institutions in India. In light of this, the following exemptions have been allowed under various Rules and Acts:
Contributions made towards scientific research to the Indian Institute of Science are exempted under Section 35(1)(ii) of the Income Tax Act, 1961.
Donors in India can avail 100% tax exemption under Section 80G (2) (a) (iiif) of the Income Tax Act, 1961.
The Institute is exempted from the provision of the Foreign Contribution Regulation Act 1976 as per Govt. of India, Ministry of Home Affairs letter No.II/21022/14(3)94-FCRA.I, dated 23rd December 1994.